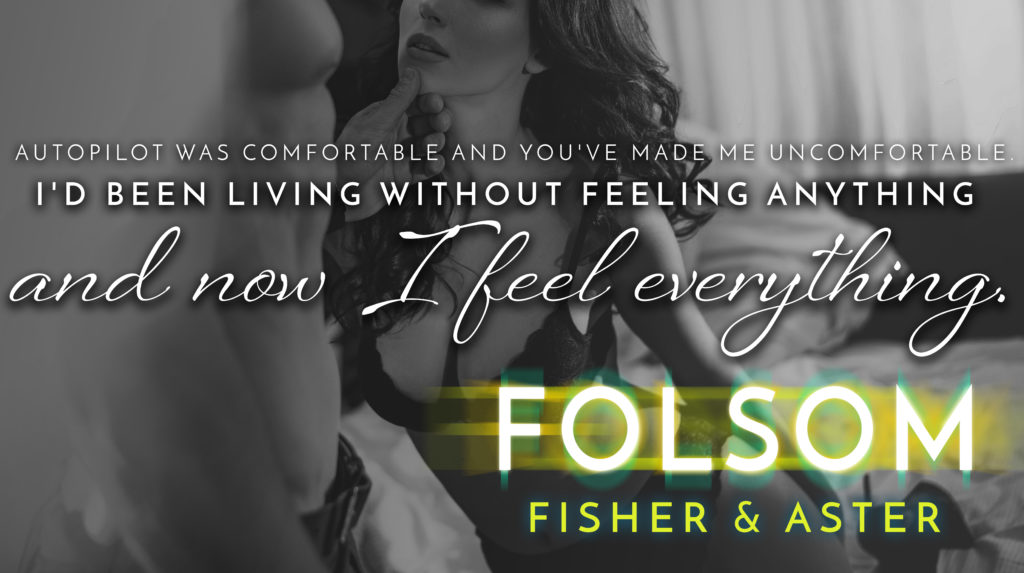 This book may be unsuitable for people under 17 years of age due to its use of sexual content, drug and alcohol use, and/or violence.
Folsom: Volume 1 (The End of Men)

by Tarryn Fisher, Willow Aster
on May 29, 2018
Buy on Amazon
Goodreads

The nation as we know it is a thing of the past.

With the male species on the verge of extinction, a society called the End Men is formed to save the world. Folsom Donahue is one of twelve men whose sole purpose is to repopulate the Regions. The endless days spent having sex with strangers leaves Folsom with an emptiness no amount of women, money, or status can fill.

Until Gwen.

Gwen has wanted a child for as long as she can remember, but when she finally gets a chance to have her own, she uncovers a long hidden truth. The injustice she sees moves her to help save the men whom no one else believes need saving.

A forbidden love, grown in a time of despair, ignites a revolution.

Folsom and Gwen, torn between their love for each other and their sense of duty, must make a choice. But some will stop at nothing to destroy them.

Folsom is book one of the End of Men series.

Contemporary Romance with a side of Dystopian
"Words are a powerful weapon and they never die."
Folsom has been hard for me to review. I didn't leave this book feeling like I'd reached the end. Cliffhangers are brutal and Folsom is no exception – but I still have plenty to say about this exciting new series!
First, I'll admit that I went into this book full of cautious optimism. I was very excited but also a little unsure. When your favorite author ventures into a completely new genre it can be scary. I wanted to love all the things but I had no idea what to expect from this brave leap into the world of dystopian romance.
Simply put – dystopian isn't my thing. I loved The Hunger Games trilogy but it took me FOREVER to force myself to read the books. I read the first chapter of the first book so many times I lost count and eventually had to watch the first movie before I could finally dive in and actually read. I haven't read anything dystopian since.  
Of course, I should have known better than to have had even the slightest reservation! Everything Tarryn Fisher writes is gold. Add the talents of Willow Aster to the mix and Folsom was bound to be a recipe for perfection. I loved every minute of it. They instantly bring this vivid, female-ruled world to life and invest your heart in the possibility of Gwen Allison and Folsom Donahue. The originality and creativity contained in these pages is beyond impressive.
The fact that Folsom was co-written boggles my mind. You honestly cannot tell which of these ladies is responsible for their respective portions of the book. The process of co-writing is something that's always fascinated me. Mainly because I'm a control freak and can't imagine giving another person that much influence and control over my work. However, Fisher and Aster appear to have accomplished the task seamlessly.
So whether you're into fantasy, dystopia, or romance – or if you think you aren't into any of those genres, you should give Folsom a try. It's definitely got something for everyone! 
Needless to say, I can't wait to read the next installment of this series! The story isn't over and there's only a short wait to get our next dose of The End of Men series – Jackal is coming our way on June 29th and it's at the top of my TBR!